Last ever Snarl gig: Friday 21 October 2011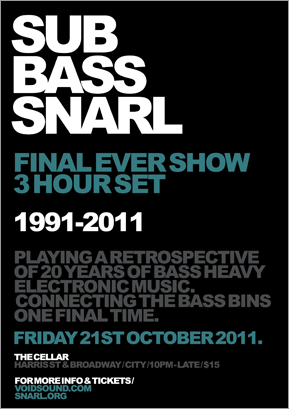 Don't miss this one as this really is our last ever live show. We'll be playing for 3 hours in one last rinsing of the bass bins. Info on Facebook.
Sub Bass Snarl are powering down the bassbins after 20 years. Sadly one Snarl is relocating to NYC and in this final ever set they'll be digging the gems out of their sets since the free parties of the early 1990s to now.
Void is privileged to be able to host the final ever Sub Bass Snarl appearance. Pioneers of Sydney's underground electronic scene since 1991, we have been fortunate to have them perform at many Void and Index gigs over recent years, most notably supporting Surgeon and Shackleton in 2010, Rhythm and Sound, The Bug and Clark in 2009, and Vex'd in 2007.